CMGDirect
Purchase Your Wheelchair Accessible Van or SUV Online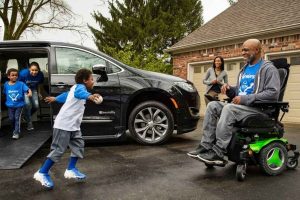 With CMGDirect, purchasing your wheelchair accessible van online is easy and efficient. Our simple yet thorough process allows you to buy a wheelchair accessible vehicle from the comfort of your home. But, more importantly, our process ensures that you are buying the right van to fit your needs, your lifestyle, and your budget. That's because you'll be assisted by mobility experts at The Creative Mobility Group every step of the way.
How it Works
Purchasing a Wheelchair Accessible Vehicle Online with CMGDirect
---
---
Connect with a Mobility Consultant
Once you connect with us, you'll be paired with a mobility consultant who will be your guide through the entire process of purchasing your wheelchair accessible vehicle. Your mobility consultant will begin by conducting a virtual needs assessment. With a complete understanding of your needs, we'll be able to help you find the wheelchair accessible vehicle that will be the best fit for you.
---
Finance Your Purchase
The Creative Mobility Group makes financing your accessible vehicle easy because we partner with lenders who understand the value of your wheelchair conversion and mobility equipment. Your mobility consultant will also be able to custom tailor the terms of your loan or lease to meet your individual needs.
In addition to being wheelchair van finance experts, our mobility consultants are also knowledgeable about grants and government funding programs available for wheelchair van conversions and modifications. We can assist you to determine which funding resources may be available to you, including grants for disabled veterans.
---
Schedule Your Delivery
Now for the most exciting part, scheduling your delivery! Your mobility consultant will make arrangements to have your vehicle delivered right to your driveway.
We'll make sure you're ready to hit the open road safely and with a full tank of gas! Your mobility consultant will thoroughly explain the proper operation of your equipment, including operation of the manual backup systems.
Get Started
Connect wtih a Mobility Consultant
We have been helping people purchase wheelchair accessible vehicles for over 40 years, and we look forward to having the opportunity to assist you. To get connected with a mobility consultant and start the process of purchasing your wheelchair accessible vehicle online, please complete the form below.